Apple iPhone 14 Pro Max vs iPhone 15 Pro Max: The technical data in comparison
 
Pro model 2022
Pro Max model 2022
Pro model 2023
Pro Max model 2023
Product
Apple iPhone 14 Pro Max
Apple iPhone 15 Pro Max
MSRP
$999
$1099
$999
$1199
Image
Colors
Space Black, Silver, Gold, Deep Purple
Black Titanium, White Titanium, Blue Titanium, Nature Titanium
Display
Super Retina XDR Display
6.1″ all-screen OLED display
2556 x 1179 pixels at 460 ppi
120 Hz refresh rate
Dynamic Island
Super Retina XDR Display
6.7-inch all-screen OLED display
2796 x 1290 pixels at 460 ppi
120 Hz refresh rate
Dynamic Island
Super Retina XDR Display
6.1-inch all-screen OLED display
2556 x 1179 pixels at 460 ppi
120 Hz refresh rate
Dynamic Island
Super Retina XDR Display
6.7-inch all-screen OLED display
2796 x 1290 pixels at 460 ppi
120 Hz refresh rate
Dynamic Island
SoC
Apple A16 Bionic (4 nm)
Apple A17 Pro (3 nm)
Storage
128 GB, 256 GB, 512 GB and 1 TB
256 GB, 512 GB and 1 TB
microSD
❌
Main camera
48 MP | quad pixel sensor | 2.44 µm pixels | f1.78 aperture | 24 mm focal length | sensor shift OIS
48 MP | quad pixel sensor | 2.44 µm pixels | f1.78 aperture | 24 mm focal length | sensor shift OIS
Ultra wide angle
12 MP | f/2.2 aperture | 1.4µm | 13 mm focal length | Macro
12 MP | f/2.2 aperture | 1.4µm | 13 mm focal length | macro
Telephoto lens
12 MP | f/1.78 | 77 mm focal length | 3x optical zoom | sensor shift OIS
12 MP | f/2.8 | 77 mm focal length | 3x optical zoom | Sensor Shift OIS
12 MP | f/2.8 | 120 mm focal length | 5x optical zoom | Sensor Shift OIS
Selfie
12 MP | f/1.9 aperture | autofocus
Audio
Stereo
Battery life
Video playback: 23 hours
Video (streaming): 20 hours Audio playback: 75 hours
Video playback: 29 hours
Video (streaming): 25 hours
Audio playback: 95 hours
Video playback: 23 hours
Video (streaming): 20 hours Audio playback: 75 hours
Video playback: 29 hours
Video (streaming): 25 hours
Audio playback: 95 hours
Fast charging
20 W (cable)
15 W (MagSafe)
7.5 W (Qi)
20 W (cable)
15 W (MagSafe)
7.5 W (Qi)
Robustness
IP68 Ceramic Shield, stainless steel frame
IP68 Ceramic Shield, titanium frame
Connectivity
eSIM, 5G, Wi-Fi 6, NFC, Bluetooth 5.3, UWB, satellite
eSIM, 5G, Wi-Fi 6E, NFC, Bluetooth 5.3, UWB, Satellite
Dimensions and weight
147.5 x 71.5 x 7.95 mm | 206 g
160.7 x 77.6 x 7.90 mm | 240 g
146.6 x 70.6 x 8.25 mm | 187 g
159.9 x 76.7 x 8.25 mm | 221 g
If you have looked closely, you will have noticed that the new models are practically priced the same as the old ones. We will clarify what this is all about further down. For now, I would like to refer you to our article in which we show you where and how you can pre-order the new iPhone 15 models of your choice.
Table of contents:
iPhone 14 Pro (Max) vs. iPhone 15 Pro (Max): Design and display
Design:
Basically, Apple has not opted for a really new design language for the iPhone 15 Pro. So, at first glance, the 2023 and 2022 models look very similar. However, if we look a bit closer, we actually notice some exciting changes. For example, the USB Type-C port is new and replaces the Lightning port. Another new feature is the new action button, which replaces the mute button but can be assigned with all sorts of functions.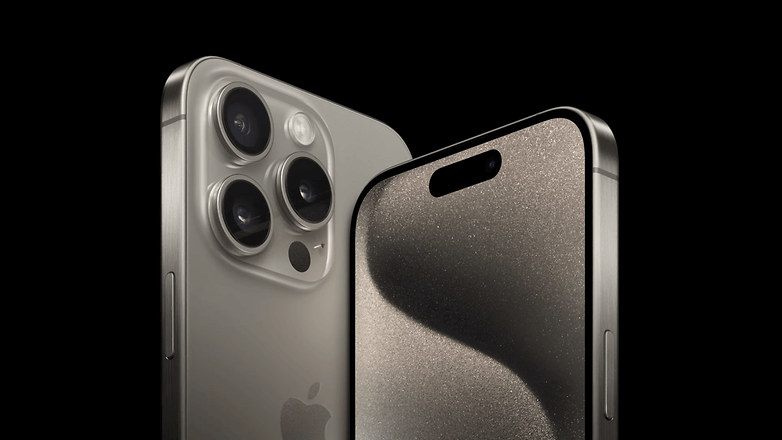 Also new: The iPhone 15 Pro (Max) is less angular, as Apple again relies more on rounded edges. The dimensions have changed minimally, but the weight loss of the newcomers is more noticeable: the 15 Pro series each loses 19 g compared to the 14 devices – the difference should be clearly felt.
Read more:
Among other things, we have the choice of materials to thank for this. Instead of stainless steel, we find a titanium frame in the iPhone 15 Pro and Pro Max. This makes the devices both lighter and more robust. This does not change the protection against water and dust; the IP68 certification remains unchanged.
Finally, Apple has opted for new colors: Instead of dark purple, gold, silver, and space black, the tech giant from Cupertino now wraps its top models in titanium natural, titanium blue, titanium white, and titanium black.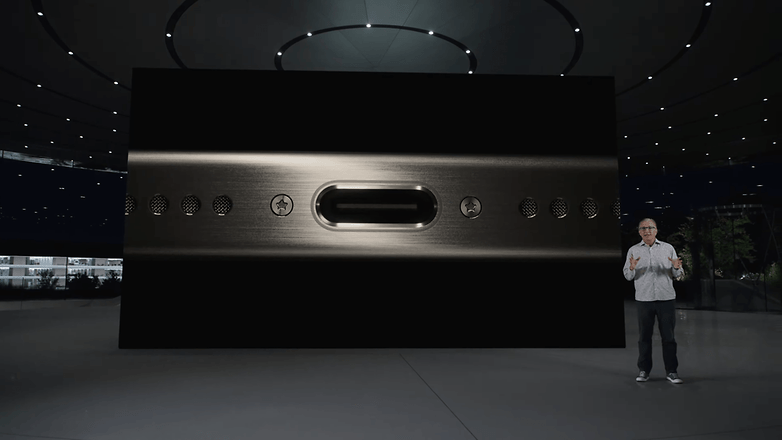 Display:
We already mentioned the rounded edges of the display, but that was really it for changes. So yes: You will still get 6.1-inch or 6.7-inch "Super Retina XDR" displays with identical resolution. In addition, there is still the always-on display, peak brightness of 2,000 nits, and the ProMotion technology, thanks to which the refresh rate fluctuates between 1 and 120 Hz.
iPhone 14 Pro (Max) vs. iPhone 15 Pro (Max): SoC and performance
This category should be one of the most exciting in the upcoming tests. The last A16 Bionic SoC is now replaced by the new A17 Pro. As long as we are still waiting for our test devices, we will have to rely on what Apple has revealed to us in advance. But if even Antoine is considering switching back to the iPhone camp, we are probably in for a real performance monster.
(Almost) nothing has changed in terms of architecture: The 6-core CPU is once again made up of two performance cores and four efficiency cores. Instead of five cores, the GPU now has six cores, and the Neural Engine remains at 16 cores. The neural engine is supposed to be twice as fast as in the A16 Bionic, the ray tracing even four times faster. The CPU itself is supposed to work ten percent faster than in the last processor generation, the GPU even up to 20 percent faster.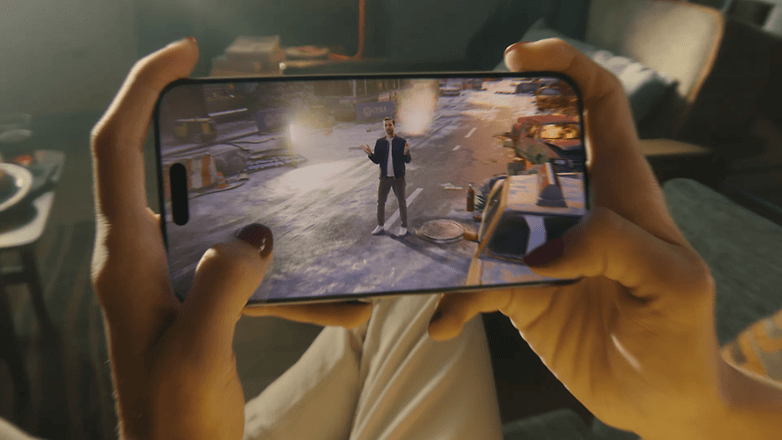 Sounds powerful, but we have to verify it in tests first. As soon as that is done, we will expand this section with a meaningful table with benchmark test results. Otherwise, there is not much wild news in terms of hardware and connectivity that has changed since the iPhone 14 Pro. The storage options remain the same, apart from the fact that there is no longer a 128 GB alternative for the iPhone 15 Pro Max. Only the Wi-Fi has been updated from WiFi 6 to 6E, which is worth mentioning.
iPhone 14 Pro (Max) vs. iPhone 15 Pro (Max): Camera
While the change to the 48 MP main camera is a breath of fresh air in the camera section of the base models, surprisingly little is happening in the Pro. On paper, the 48 MP main camera remains, as well as a 12 MP ultra-wide-angle cam and a 12 MP telesensor. However, the main camera's sensor is supposed to be larger and thus extract even more from the photos and reduce noise, especially in adverse lighting conditions.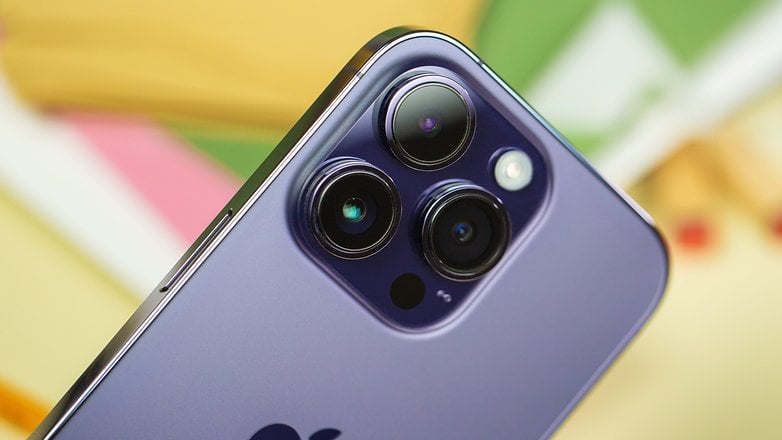 With the telephoto lens, instead of the triple optical zoom, even fivefold magnifications are now possible thanks to a new periscope technology – but only on the Pro Max, not on the Pro. The selfie camera also remains unchanged. Of course, Apple also claims to have improved the software so that faces in particular, but also dogs and cats, are automatically recognized and directly photographed in portrait mode. All in all, it sounds like the camera has not developed outstandingly in the new Pro series. But don't worry: Our test will shed light on this as well.
iPhone 14 Pro (Max) vs. iPhone 15 Pro (Max): Software and iOS
As expected, we can again be brief here. Of course, the iPhones of the 15 series are launched with iOS 17. But this software version also finds its way onto the iPhone 14 Pro, so there are no major differences. The exception here is, of course, the updates for the new iPhones, which are available for a year longer. Basically, new features like NameDrop, ContactPoster, or the Live Sticker are available for all iPhones that also get iOS 17.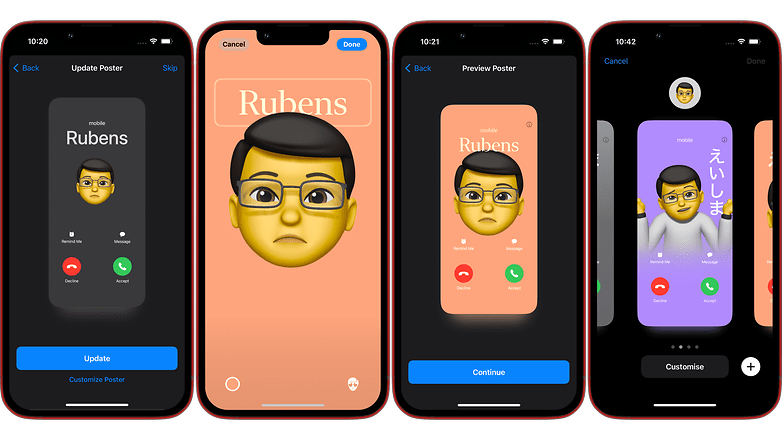 iPhone 14 Pro (Max) vs. iPhone 15 Pro (Max): Battery life and fast charging
For the iPhone 14, Apple communicated the following key data on charging speed:
iPhone 14 Pro:
Video playback: 23 hours
Video (streaming): 20 hours
Audio playback: 75 hours
iPhone 14 Pro Max:
Video playback: 29 hours
Video (streaming): 25 hours
Audio playback: 95 hours
In addition, we know that wired charging is officially up to 20 W (unofficially up to 27 W). Up to 15 W is possible via MagSafe and up to 7.5 W wirelessly.
All that I mentioned here for the iPhone 14 Pro (Max) is also valid for the iPhone 15 Pro (Max). So, it does not confirm that the new Pro model can be charged faster (with up to 35 W). Even though the battery capacity has been increased slightly, the devices should last as long as before.
Of course, you will benefit from the USB Type-C port and thus have more flexibility when buying the chargers.
iPhone 14 Pro (Max) vs. iPhone 15 Pro (Max): Prices and availability
US prices remained largely the same for the iPhone 15 generation, with one important exception. With the iPhone 15 Pro Max, the base price is now $100 higher. However, we already mentioned that the flagship model for 2023 no longer offers a 128 GB option.
What does that mean in concrete terms? That you had to pay $999 for the 128 GB version of the iPhone 14 Pro last year, and the same for the iPhone 15 Pro. For the iPhone 15 Pro Max, the entry-level price of $1199 gets the 256 GB version instead of the 128 GB version, which is no longer available. Here, I'd like to refer you once again to Dustin's article, which tells you where and how you can pre-order the various models of the iPhone 15 series.
Keep in mind, however, that the street prices for last year's iPhones are now lower than they were a year ago. The iPhone 14 Pro, for example, is already available for less than $1000, and the iPhone 14 Pro Max (256 GB) can be found with some discounts as well.
The recommended retail prices of the iPhone 14 Pro and iPhone 15 Pro models
You can already pre-order the new models, delivery will start on September 22nd.
| | | | | |
| --- | --- | --- | --- | --- |
|   | iPhone 14 Pro | iPhone 14 Pro Max Plus | iPhone 15 Pro | iPhone 15 Pro Max |
| 128 GB | $999 | $1099 | $999 | – |
| 256 GB | $1099 | $1199 | $1099 | $1199 |
| 512 GB | $1299 | $1399 | $1299 | $1399 |
| 1 TB | $1499 | $1599 | $1499 | $1599 |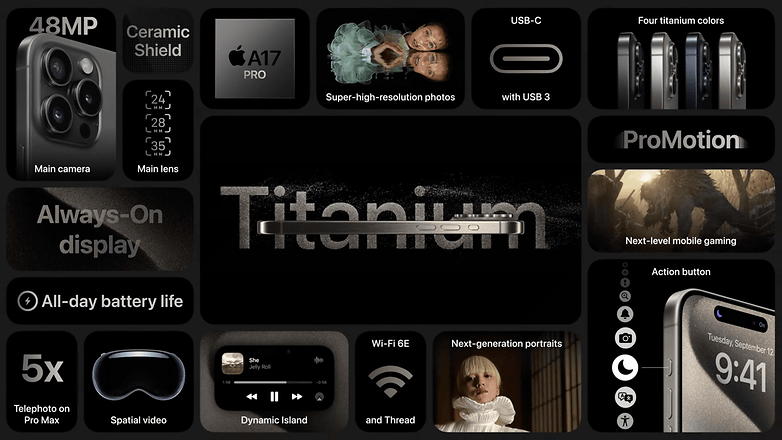 Conclusion
As always, a conclusion at the end of such a comparison is on shaky ground as long as we could only test one side in detail ourselves. Thus, we will only focus on technical data and information about the prices for the time being. Everything else will be put in order as soon as we could lay our hands on the iPhone 15 Pro and the iPhone 15 Pro Max.
Nevertheless, we can already state that the performance is supposed to improve to an extent that enables AAA games on the smartphone. In contrast, there is only relatively little change in the cameras. Thus, gamers might be interested in buying a new device, while photographers can relax and stay with the iPhone 14 Pro.
In my opinion, the other changes—USB-C, faster Wi-Fi, minimal design adjustments—are not very suitable to encourage you, as iPhone 14 Pro owners, to buy an iPhone 15 Pro. However, if you do not own either device, the purchase of the new models might make sense.
No matter which device you choose: You should get used to the idea of using the phone for three or four years—the devices are a) simply good enough to use for such a long time and b) simply too expensive to buy every year.
What do you think about the new Pro models from Cupertino? Did the presentation convince you? Are the 14er models still enough for you? And how long do you use your iPhones anyway? Feel free to tell us all about it in the comments.