Using the Health app on your iPhone, you can manually enter data from the first day of your period, and Apple will provide an estimation of your future menstrual cycles. If you incorporate an additional layer of technology, such as an Apple Watch Series 4 or newer, you'll be able to draw more correlations from the collected data. This results in a more reliable prediction of your menstrual cycle and potential health issues.
In 2022, Apple raised the bar in menstrual health by introducing an extra sensor to the Apple Watch Series 8 (read the review) and Watch Ultra (read the review). This sensor enables a more accurate temperature baseline analysis. For Apple Watch users who menstruate, this means the device can now provide variations in baseline temperature, offering insights into hormonal changes in the body. This is crucial for the new retrospective ovulation estimates feature.
This article is part of a nextpit series on menstrual health. In it, I will discuss how you can utilize cycle tracking as envisioned by Apple. Additionally, I will delve deeply into the options available to you based on the devices you choose. Given that data collection is a significant aspect of cycle tracking services, I will also address privacy concerns and the risks you might encounter if this data were to leak.
Table of Contents:
Utilizing Cycle Tracking on the iPhone and Watch Series 4+
Using the Health app on your iPhone—and soon on the iPad with the upcoming iPadOS 17 update—you can gather a wealth of data related to your menstrual cycle. It starts with Period Predictions, the app's foundational feature. Beyond this, you have the option to log symptoms such as bloating, headaches, and mood fluctuations. You can also manually input other details like spotting and basal body temperature.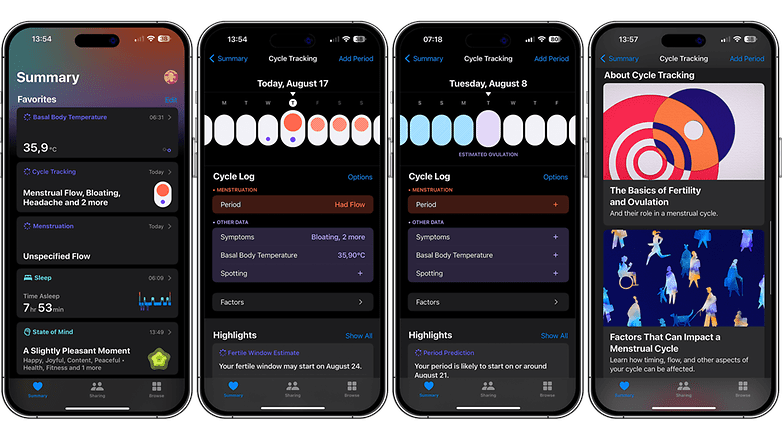 Apple further provides the opportunity to include information on ongoing cycle factors, such as pregnancy, and presents curated content on certain aspects, including spotting (which refers to bleeding between periods).
I personally find the material beneficial. However, it's crucial to emphasize that while the cycle tracking feature is indeed a valuable tool, consulting a healthcare professional is essential for any medical concerns or questions about your menstrual health.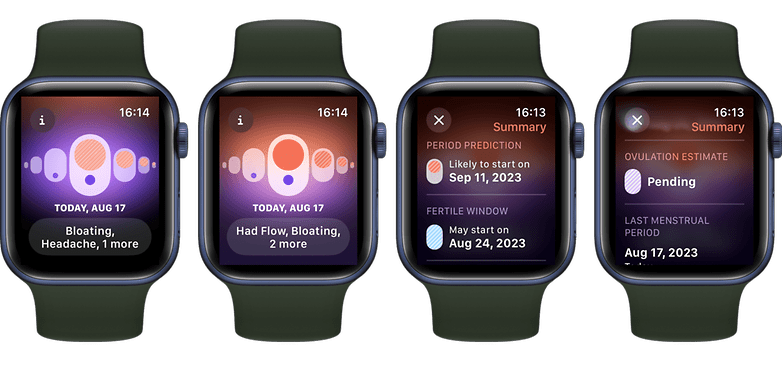 That said, if you own an Apple Watch Series 4 or a more advanced model, you will have some of the above-mentioned features on your wrist. Moreover, you will be able to access information such as resting heart rate. As I highlighted in the Apple Watch SE review, the cycle tracking feature is available with the support of heart rate monitoring.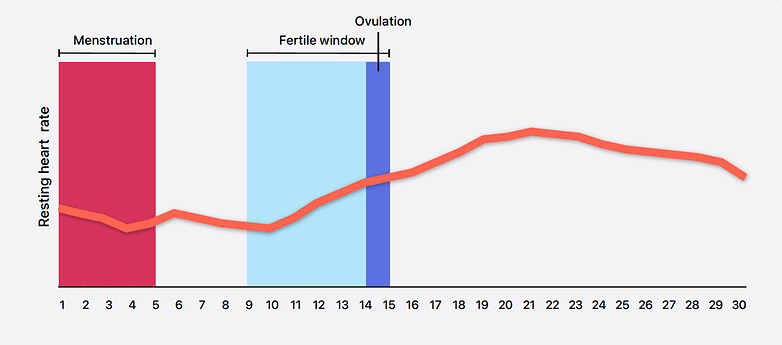 Apple explains that our resting heart rate is lowest in the follicular phase and rises around ovulation. It peaks in the middle of the luteal phase and then returns to normal. Data from the Apple Watch can help predict your menstrual cycle and fertility window more accurately based on that.
Cycle tracking: a step-by-step guide
Open the Health app on your iPhone.
At the bottom of the screen, select the Browse tab.
Use the search bar at the top or scroll down to find Cycle Tracking. Tap on it.
If you haven't set up Cycle Tracking before, you'll be prompted to Get Started. Click on it.
You'll be asked for the first day of your last period, the typical length of your menstrual cycle, and the duration of your period. Fill in the details accurately.
You can also log various symptoms you experience throughout your cycle. This is optional but can help in predicting your fertile window and understanding your body better.
Once you've entered your data, the Health app will provide predictions for your next period and fertile window.
Every month, make sure to log the first day of your period to keep the app updated. This will refine its predictions over time.
At any time, you can view your menstrual cycle history, symptom log, and predictions by going back to the Cycle Tracking section of the Health app.
You can adjust settings, such as notifications for your predicted period start date or fertile window, from the options/settings within the Cycle Tracking section.
How to use the retrospective ovulation estimates on Watch Series 8 and Ultra
For those with an Apple Watch Series 8 or Watch Ultra, in addition to cycle tracking, the device also offers retrospective ovulation estimates. This technique determines or estimates when ovulation happened by analyzing signs and symptoms post-event, rather than predicting it in real-time.
There are several ways to retrospectively estimate ovulation, including Basal Body Temperature (BBT) charting. Our body temperature typically rises slightly (by about 0.5 °F or 0.3 °C) after ovulation due to the release of the progesterone hormone. This is called the Biphasic shift, and it's highlighted in the graphic below. By tracking body temperature daily and observing for this subtle increase, you can estimate when ovulation took place.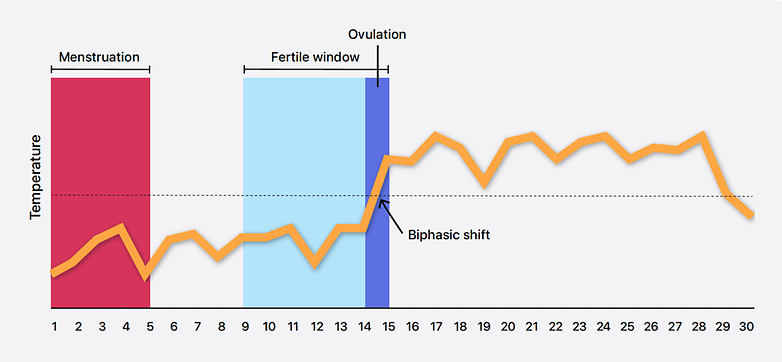 If you log your period or a positive ovulation test result using the cycle tracking feature on your iPhone and Apple Watch, the fertile window is defined as the six days you're most likely to be fertile. This prediction is based on the traditional calendar method. The fertile window is determined by subtracting 13 days (representing the luteal phase) from the estimated start date of your next cycle.
The Apple Watch Series 8 and Watch Ultra are equipped with an additional sensor to measure nighttime temperature fluctuations on the wrist to within 0.1 degrees. This data is used to estimate when you likely ovulated and to enhance period predictions.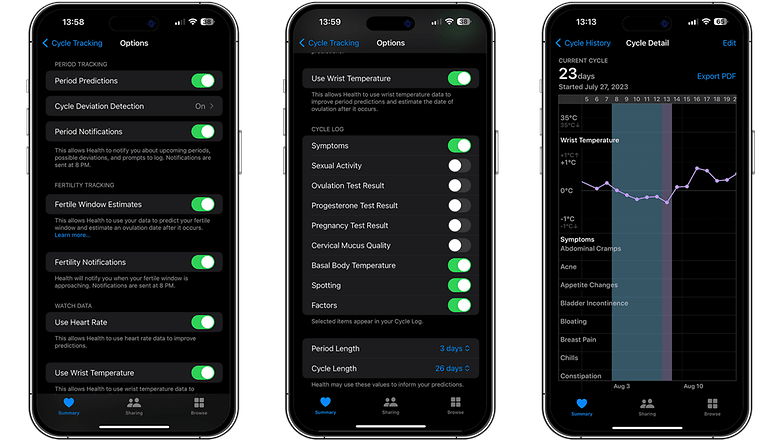 However, several factors can influence the availability of ovulation estimates, and it typically takes at least two months for the ovulation estimates to appear. Here are some reasons why:
Sufficient wrist temperature data might be lacking for ovulation estimation in a given cycle. You need to wear the Apple Watch every night to create a precise dataset on your wrist temperature.
It requires roughly two menstrual cycles of wearing the Apple Watch to bed every night with Sleep Focus enabled before ovulation estimates become available.
Wrist temperature data can be affected by certain environmental or physiological conditions.
Ovulation might occur without a noticeable biphasic shift, or the temperature shift might be too subtle to make an estimate.
Ovulation doesn't necessarily happen every cycle.
So, assuming you wear the Apple Watch to bed every night with Sleep Focus enabled, the retrospective ovulation estimation will be added to your Health app from the time you began using the device. This will likely encompass the last two menstrual cycles.
Apple allows users to download and share graphics on ovulation with their physician in the form of a PDF document. Personally, I'd like the option to share this data as a spreadsheet, providing a more comprehensive view of my data. However, that feature isn't available yet.
Your cycle tracking data and privacy
When it comes to data privacy, reproductive health information is arguably among the most personal data one can produce. This should be a primary concern for you.
On this topic, Apple states that when your iPhone is secured with a passcode, Touch ID, or Face ID, all your health and fitness data in the Health app are encrypted. Health data backed up to iCloud is encrypted both during transit and while stored on Apple's servers.
With the default two-factor authentication and passcode in iOS and watchOS, Health app data synced to iCloud is encrypted end-to-end. This means Apple doesn't have the decryption key and, thus, cannot access the data.
---
Roe v. Wade and its overturning implications
The overturning of Roe v. Wade made abortion legality a state-by-state issue in the US, thereby reducing or eliminating access to abortion in some regions. In this context, certain apps related to reproductive health became subjects of concern. Since abortion can be criminalized at the state level in the US, this puts those who seek, aid, or provide abortions at legal risk.
So, you should be aware of the data you produce and ensure you utilize all available security and privacy tools.
However, based on insights from legal experts cited in a New York Times article around the time of the US court decision, while period trackers might seem like a primary source of data on reproductive health decisions, other digital footprints like Google searches, website visits, and email receipts are more probable risk factors.
---
So I will stress this again, when using menstrual cycle tracking and ovulation estimation features on your iPhone or Apple Watch, it's highly recommended to secure your devices with a passcode, Touch ID, or Face ID security level.
Furthermore, I propose reading our guide on enhancing your iPhone's security by making simple changes to the Apple Passcode.
Lastly, Apple provides the option to integrate third-party apps and services with the Health app data and also allows sharing with family members, physicians, and others. Keep in mind that this section of the app should also be a significant consideration in your data privacy concerns. To review third-party app permissions, follow this quick tutorial:
Launch the Health app on your iPhone.
Tap on your profile picture or icon in the top-right corner of the screen.
Select Apps and Services from the list of Privacy options. This will show you a list of all third-party apps and devices that have requested or been given permission to access your health data.
Under the Apps section, you'll see a list of third-party applications that have requested access to your Health data. Tap on an app name to view its permissions.
From here, you can see which categories of health data the app has access to. Toggle the switches on or off to grant or deny access to specific types of data.
Once you've made your desired changes, you can exit the sources page. The permissions will automatically save.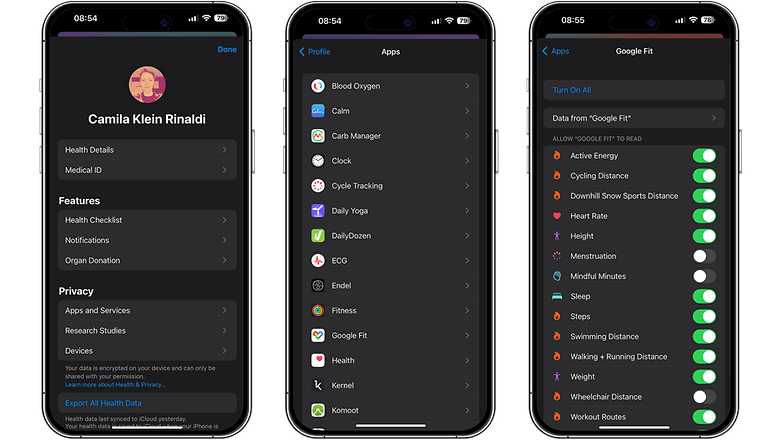 It's a good practice to regularly review and update these permissions, especially if you frequently download new health-related apps or if you're concerned about your data privacy. Yes, the Health app is designed with user privacy in mind, but it's up to you to control which apps and services can access your information.
Why track your menstrual cycle
First, I'd like to remind you that this article is part of a nextpit series on menstrual health and the role technology plays in it. To avoid repeating myself regarding the benefits of tracking the menstrual cycle, I recommend reading the introductory piece of the series.
However, I'd also emphasize that tracking your cycle isn't solely about fertility and reproduction. Viewing the menstrual cycle as a vital sign is justified, given its intricate connections with the brain, hormones, ovaries, and uterus. Notably, cycles differ both monthly and across individuals, so capturing your periods, symptoms, and related nuances is the ideal way to discern your own norm.
On a personal note, I consistently use it to gauge the influence of my hormonal phases on my dietary habits and overall lifestyle.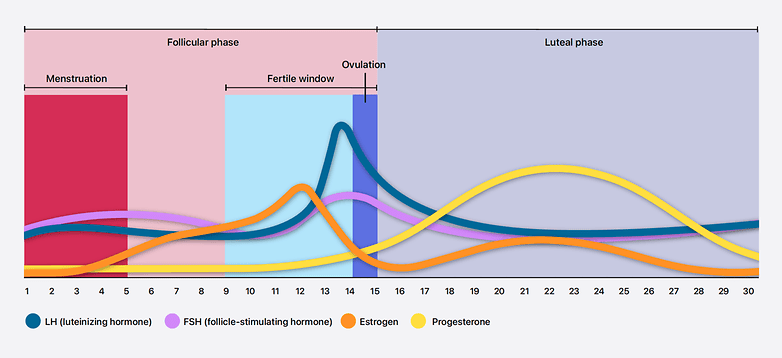 But in terms of the 'why', let's spotlight a study conducted in collaboration between Apple, the Harvard Chan School, and the National Institute of Environmental Health Sciences (NIEHS). This study delves into understanding the influence of specific demographic and lifestyle factors on menstrual cycles. It also explores their effects on conditions like infertility, menopause, and polycystic ovarian syndrome (PCOS).
In an initial analysis of a cohort with over 50,000 study participants, the research team discovered:
12% of participants with a PCOS diagnosis. Those with PCOS showed a risk more than 4x higher for pre-cancerous uterine conditions, and over 2.5x higher for uterine cancer.
5.7% of participants with cycles taking over five years to reach regularity. This group was over twice as likely to face pre-cancerous uterine conditions and had a risk of more than 3.5x higher for uterine cancer compared to those who achieved regular cycles within a year.
These insights underscore a feature I greatly appreciate in the Apple Watch Series 8 cycle tracking: Cycle deviations. Drawing from your cycle history over the past six months, patterns of irregularity, infrequency, prolonged periods, or persistent spotting are analyzed to generate an alert for cycle deviations.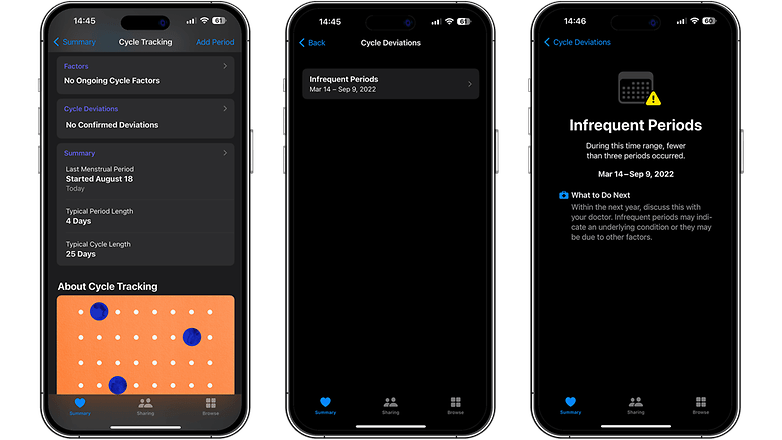 Why is this significant? Changes in your cycle patterns can indicate underlying health issues like fibroids, thyroid disorders, or PCOS. As shown in the study results above, being aware of these shifts when they happen is crucial.
That wraps up how to use menstrual cycle tracking on the Apple Watch and iPhone. I hope this guide gives you a clearer understanding of how these devices can assist you in monitoring your menstrual health. If you have any questions or suggestions, please share them in the comments below.