The Galaxy Z Fold 5, Samsung's latest foldable smartphone, runs on One UI 5, the Android we all know. But Samsung has integrated some features designed for Galaxy Z Fold 5. In this list, I will share with you the best tips to try Samsung foldable smartphone.
The Samsung Galaxy Z Fold 5 (Review) is at least as focused on productivity as it is on entertainment. As you can see, the large 7.6-inch curved screen is especially versatile. Let's stop with the SEO text filler and get to the tips.
Contents:
Force the continuation of the application on the cover screen
One of Samsung's key features for the Galaxy Z Fold 5 is app continuity. For certain applications, this means intuitively switching from a stretched main screen to a folded cover screen.
Basically, an app is unlocked on the smartphone and when you turn it off, the app continues to run and automatically adjusts the interface.
That's great, but only a few native and third-party apps are officially compatible. Apart from that, if you use the awesome Good Lock app, you can force app persistence to unsupported apps.
The most important use, in my opinion, concerns Youtube. You can start a video in non-folding mode and continue continuously in folded mode. It's easy to do. It works. In short, there is nothing to say.
To do:
Go to Good lock Application.
In the left sidebar, press device Icon.
go to Multi star
Press I ♥ Galaxy Fold.
Select the Continue all applications on the front screen Optional.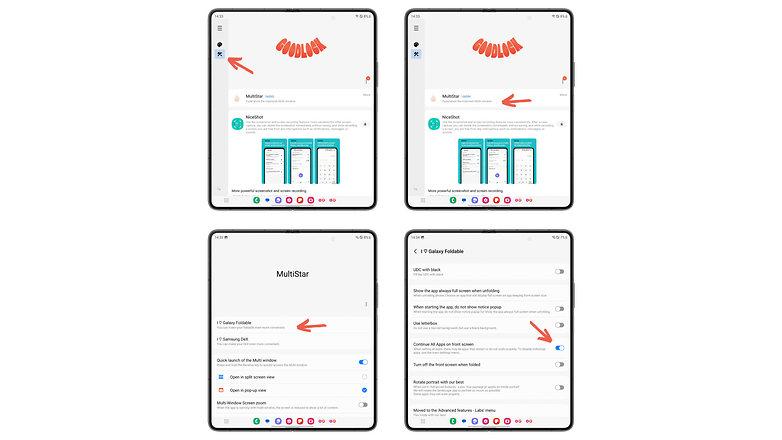 Drag and drop between two apps
This is one of the main (and only) new features of the Samsung Galaxy Z Fold 5, which allows you to copy and paste a file between two applications without having to close either of them.
You don't need to activate anything in the settings; It's a simple drag-and-drop gesture that you perform with two fingers. Basically, imagine you want to copy a photo from your gallery and paste it into Samsung Notes.
Simply hold one finger on a photo in the Gallery app and, without releasing the first finger, hold another finger on the Samsung Notes icon and drag and drop the photo with the first finger.
I know, all that finger-swiping can get out of hand. Watch a video of how it works in the short clip below. It will be clearer.
Force windowed mode on all apps
When revealed, the internal screen of the Samsung Galaxy Z Fold 5 is 7.6 inches diagonally. You actually have a small tablet in your hands.
But all of them are great for watching YouTube videos or playing mobile games in full screen mode. But I'm going to make you work. You can switch many apps to windowed mode to use this large screen to its full potential.
You can display up to 5 floating windows at the same time. You can move them, adjust their sizes and hide them (see the last tip in this guide to find out how).
To do this:
go to settingsand then Advanced features.
Press Labs and activate Multi window For all applications Optional.
You can now display any app in windowed mode, even if it's not officially compatible.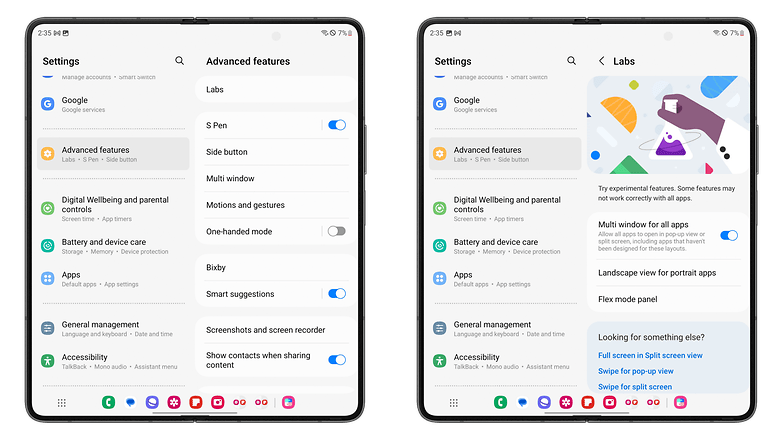 Activate the Flex panel in all applications
I gave a more comprehensive article on all of Samsung's Flex Mode features (but it's a bit old, so I need to update it). The Flex panel allows you to display certain parts of the interface on the lower part of the screen when the Samsung Galaxy Z Fold 5 is folded 90 degrees.
This gives you a touch-sensitive surface that doubles as a trackpad to navigate your Galaxy Z Fold 5 like a laptop using a mouse pointer, for example.
To enable this panel:
go to settingsand then Advanced features.
Press Labsand then Flex Mode panel.
Turn on the corresponding switch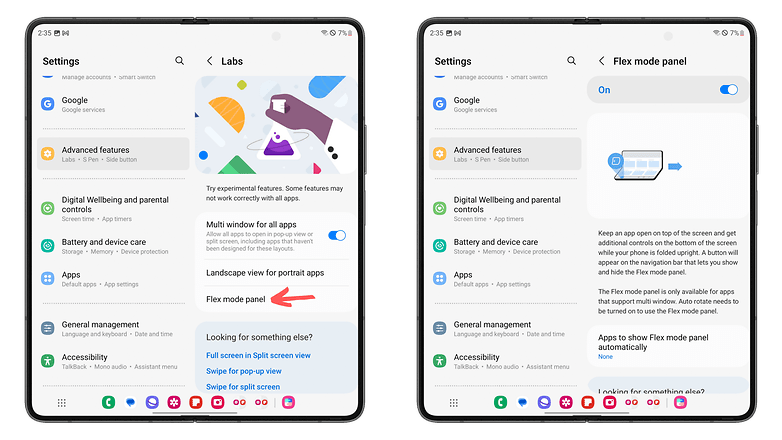 Using gesture shortcuts for many tasks
This brings us to one of the most interesting aspects of this article, in my opinion. We talked a lot about multitasking, windowed mode, and so on. But what about understanding?
Well, the Samsung Galaxy Z Fold 5 offers a few gesture shortcuts to facilitate various productivity tasks. To access these options:
go to settings.
go to Advanced features.
Press Multi window.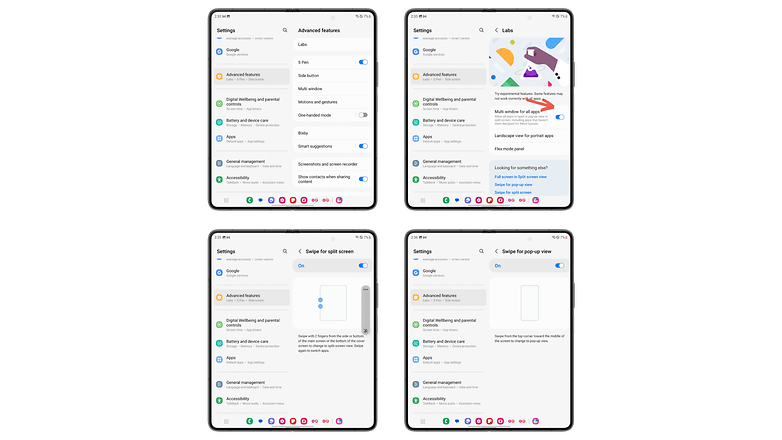 You can then activate shortcuts to quickly switch to split mode by swiping from one side of the screen to the other. To split the screen horizontally, you can swipe from the bottom up or vice versa with two fingers from the edge of the screen. To divide the screen vertically, you can do the same from right to left and vice versa.
Another shortcut lets you switch the application to windowed mode. Simply swipe diagonally from the top right or left corner to the center of the screen.
These gestures are especially useful if you're using a stylus like the S Pen. It lets you quickly switch between multiple applications and maximize your work.
Increase your taskbar with these gestures
what Need more shortcuts for windowed or split-screen mode? You are just in time. Let's talk about the gestures you can use from the Samsung Task Bar.
As a reminder, this is a toolbar at the bottom of the screen that displays your favorite and recent apps. You can activate/deactivate as follows:
go to settings.
go to ScreenThen scroll down.
Activate Action bar turn into.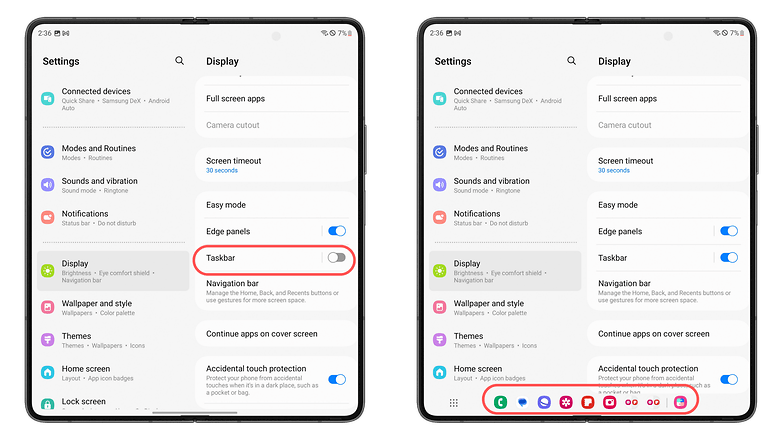 Now that you have a taskbar at the bottom of your screen, go to that cool Good Lock app and proceed as follows.
Go to Good lock Application.
In the left sidebar, press device Icon.
go to Multi star
Activate Multi-window quick launch turn into.
Choose one Open in split screen view Or Open the pop-up view.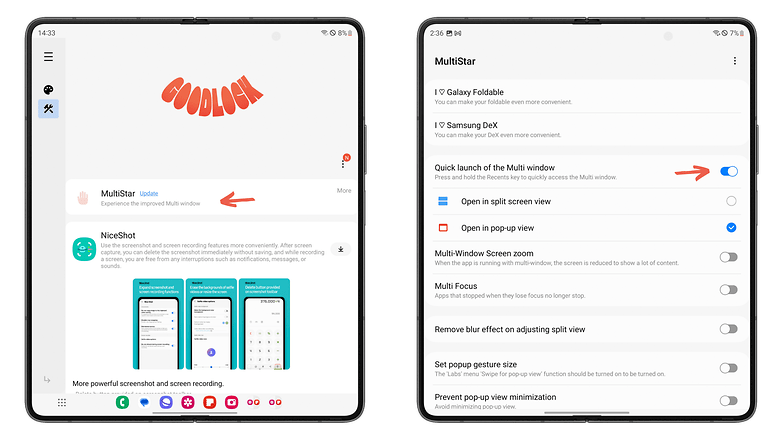 Now hold the icon of any recent app in your taskbar. And this long press can trigger one of two actions, the choice is yours.
Either press and open the app in split screen mode. Or open it in window mode.
Add your app pairs to your taskbar
Stop me, just when I think I'm done, I'll have another trick, I'll be back home one more time to take care of my wife and three ideal children, dammit!
Let's end this article with one final feature. We are still talking about the taskbar. As you know, you can open multiple apps in split screen mode.
You also know that you can open your recent apps from your taskbar.
But did you know you can "save" a couple of your split-screen apps, add them to your taskbar, and launch them with a single tap?
To do this:
open Two applications in split screen mode (If anyone dares tell me after reading this article that they don't know how to do this, you're in trouble).
Press the button ⋮ icon in the middle, between the two split-screen windows.
Press the button Star icon.
Choose Action bar.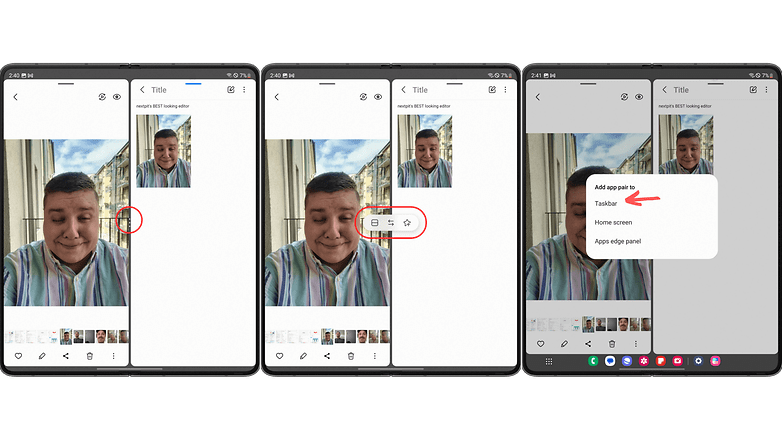 This pair of apps will now appear on the right side of the Recents section of your taskbar. If you install it, the two apps will always open in split-screen mode.
And even if you close them or exit the split screen, this configuration will remain in your taskbar.
What do you think about this list of Samsung Galaxy Z Fold 5 best features? Which methods do you prefer on your foldable smartphone? Do you think One UI 5 will make enough use of the foldable Galaxy Z Fold 5 and Galaxy Z Flip 5?
For more information, check out our selection of the best foldable smartphones of 2023 and our comparison of the best Samsung smartphones.