If you've been considering upgrading your patio or pool bar with a TV in the past, now is a good time to reconsider those plans. Samsung's line of climate-resistant Terras QLED Smart TVs is up to $4000 off. The 55-inch model with partial sun protection is down to $2999, while models with full protection now start at $6499.
The cheapest in the range is the 55-inch model, which normally retails for $3499, but you can pick it up for $500 less during sales. Similarly, there are big savings on the 65-inch and 75-inch Samsung outdoor Terrace TVs. Both get improved specifications such as higher brightness levels.
Why Samsung Terrace QLED TVs are worth it
Like Samsung's indoor QLED TVs, the 2021 Terrace QLED large screens feature exceptional picture quality. The difference they offer is the added IP55 dust and water resistance certification and increased brightness, which allows for entertainment regardless of the weather. In addition, the TV's IP56-rated remote control can be submerged in the pool up to 1 meter deep.
All sizes come with an anti-reflective panel, which helps deliver better performance even in bright and sunny conditions. At the same time, Terras TVs get HDR 10+ and 4K AI upscaling for all types of videos and media you play.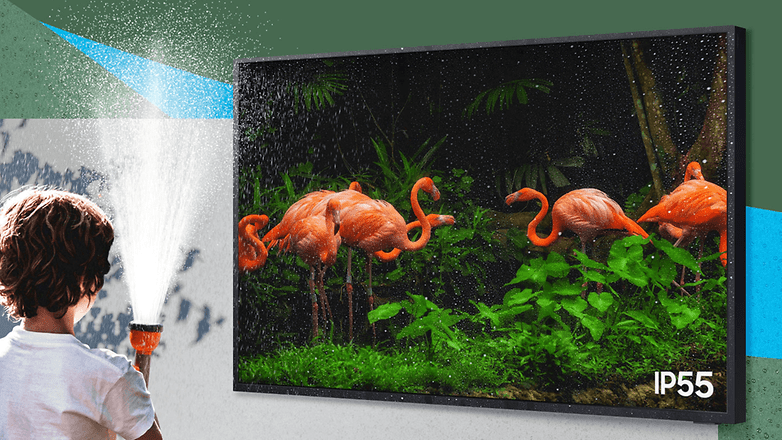 When it comes to smart features, Tizen OS allows features like MultiView which allows two windows to be displayed on the screen with different content on each. It is even possible to mirror the TV view to a compatible Samsung Galaxy smartphone.
Thanks to the available Wi-Fi and Ethernet port, external TVs are supported in combination with smart and voice assistants and managed through the Samsung SmartThings app. As for other connections, you can get HDMI (Arc), USB and audio output in digital and analog for setting up soundbars.
Currently, all purchases come with free shipping, which normally costs $120. Additionally, if you want more peace of mind, you can opt for the Samsung Care+ plan in either a 2-year or 4-year plan.