The best smartwatches of 2022 compared
Which is the best smartwatch? That's a difficult question to answer because the demands of each user are very different. For iPhone users, the first thought is, of course, the Apple Watch, but there are also exciting lineups from Garmin or Fitbit. The Galaxy Watch lineup is similar for Samsung fans.
In the following article, you will find a short buying guide first of all. Because before you decide on a smartwatch, you first need to know what is important. Then I present each recommendation in two paragraphs and a table. In doing so, I also explain why I find the smartwatch suitable for the respective category.
Jump To:
Buying advice: what does a smartwatch need to be able to do in 2022?
NextPit recommends: The best smartwatches in 2022

Best smartwatch of the year: Apple Watch Series 8
Best Android alternative: Samsung Galaxy Watch 4
Best premium variant: Huawei Watch 3 Pro
Ultimate sports smartwatch: Garmin Epix 2
Best value-for-money smartwatch: Amazfit GTR4
Best value for money: Fitbit Versa 3
Best hybrid smartwatch: Withings ScanWatch

How did NextPit choose the best smartwatches?
Upcoming deal days
More "Best of" lists
Buying advice: What must a smartwatch be able to do in 2022?
Smartwatches in 2022 have many different features, ranging from smartphone connectivity to materials to fitness functions. NextPit explains the most important features of smartwatches to you here.
Requirements for a good smartwatch in 2022
Smart functions: Smartwatches are not called that for fun – after all, they are supposed to serve as an extension of the smartphone. This begins with notifications for incoming calls and messages, which virtually every current smartwatch can handle. Replying to incoming messages, however, becomes more difficult and usually only works with models that work really closely with the smartphone, such as an Apple Watch or a Samsung Galaxy Watch. Paying via NFC does not work with all models either, and only a few manufacturers apart from Apple and Samsung really offer a wide range of apps. Garmin, for example, maintains a proprietary and quite well-equipped app store.
Mobile: Do you want to go to the bakery or walk around the city park without a smartphone? Then you need a smartwatch that not only supports Bluetooth or WLAN, but also LTE connectivity. That is the bare minimum if you want to remain contactable while you are on the move.
Ease of use: How well and easily can the smartwatch be operated? Are there mechanical operating options such as crowns or bezels or is the operating system also easy to operate via the touchscreen? If you want to operate the watch during winter or at work with thick gloves, then make sure that it can also be controlled completely via the buttons.
Vital Signs & Functions: While all smartwatches can measure your pulse, there are many additional features. These include measuring your blood oxygen, blood pressure measurement, ECG features, and more. The more fitness features a watch offers, the better. If you want to go jogging without a smartphone, the smartwatch you use should have its own GPS receiver. Sports enthusiasts out there should also take a look at the compatible accessories: some watches can be paired with waterproof triathlon chest straps or cadence sensors for bicycles. Other features that are a basic requirement are telephony, music control, independent music playback, and digital payment methods.
Quality and value: Smartwatches can be prestige objects if you want them to be! High-quality workmanship including waterproofing and premium materials should be another aspect you should pay attention to. Of course, it depends on how important these features are to you. This is because as a rule, the price also increases with the use of higher-quality materials, or you will have to make the sacrifice for a cheaper price with fewer features.
Battery life: A long battery life is an advantage when you have a watch on your arm. However, this feature doesn't come without its pitfalls. Some smartwatches offer super-long battery life, but are very thick and clunky in exchange for higher battery capacity. This is where you need to find the right -mAh- capacity for you!
NextPit recommends: These are the best smartwatches in 2022
At the top of this article I have presented you all the winning smartwatches in 2022 in a table. If you want more information, you can find it in the paragraphs below. For even more on the individual models, check out the linked reviews.
Apple Watch Series 8: The best smartwatch in 2022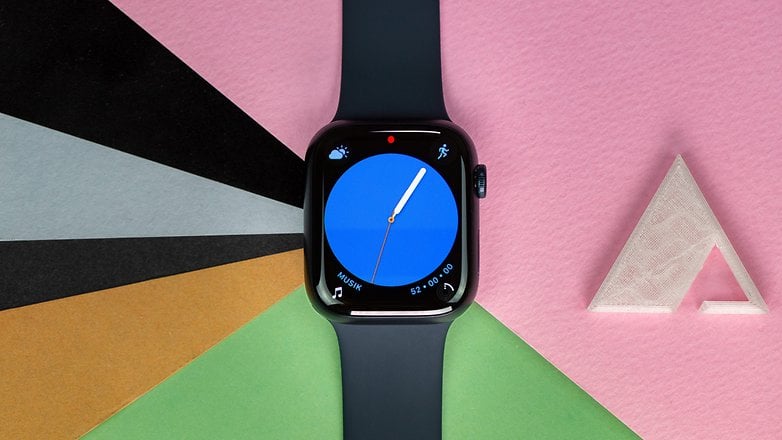 Read the detailed Apple Watch Series 8 review on NextPit
Yes, it is a pity that probably the smartest smartwatch around omits a large segment of smartphone users worldwide. After all, besides the ever-same design, the lack of connectivity to Android smartphones is the main criticism of the Apple Watch 8. Otherwise, the Apple smartwatch is hard to beat when it comes to comfort, operation, and app support.
The new Watch 8 now offers a temperature sensor, can handle international roaming for calls, and is even supposed to be able to detect when you are in a car accident. In addition, the Apple smartwatch could shine with better workout tracking and more accurate sleep tracking in the review. One drawback though: Despite the new energy-saving mode, you still have to charge the watch every single day.
The best Android alternative: Samsung Galaxy Watch 4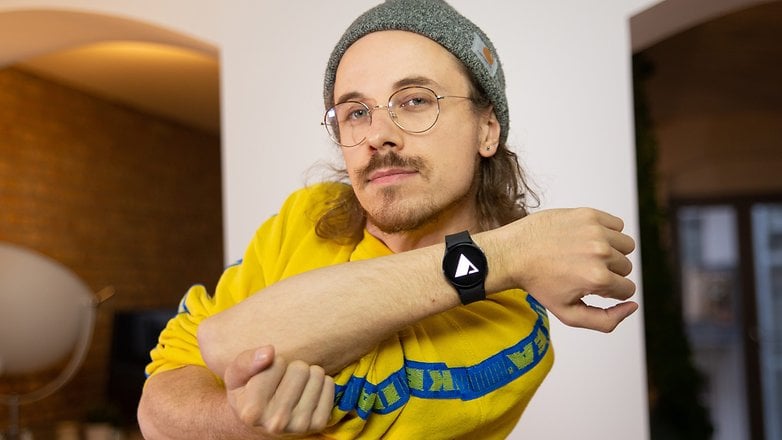 Read the Samsung Galaxy Watch 4 review
The best Android alternative from my point of view presents the Galaxy Watch 4. Released in 2021, it represents a new direction for Samsung in several ways. Firstly, the design of the standard model now resembles the former Watch Active and secondly, there is a new operating system instead of TizenOS. The WearOS-based OneUI Watch performed very well in the test.
Besides the good connectivity to the phone, there is a high-quality and powerful hardware including unique tracking functions. In return, the battery life is low due to the compact case, and some tracking features are Samsung-exclusive. Does the battery life bother you and do you miss the rotating bezel? Then maybe the Classic model is something for you! However, we have not reviewed it yet.
In the meantime, Samsung has already introduced the Galaxy Watch 5 and the Galaxy Watch 5 Pro (hands-on), which we will also review for you soon. Until then, the Watch 4 remains our recommendation for Android and Samsung users.
Best premium smartwatch: Huawei Watch GT3 Pro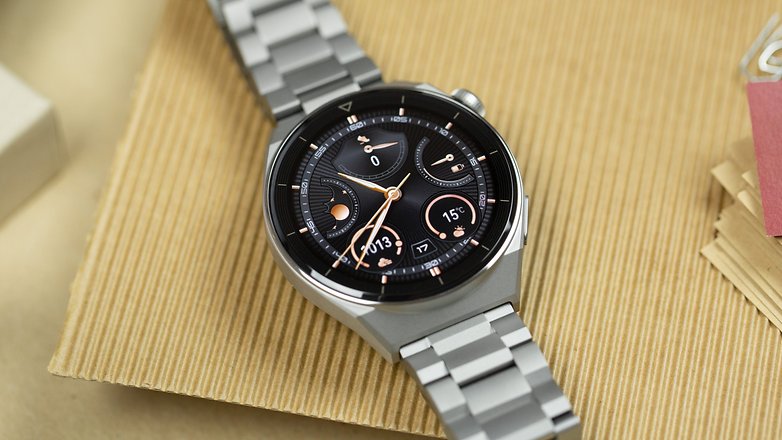 Read our review of the Huawei Watch GT3 Pro
The Huawei Watch GT3 Pro is an absolute beauty and works with both Android and iOS platforms. For a fair price, you get a great smartwatch with high-quality materials like titanium and sapphire glass. We were also impressed by the display and the handling for the most part.
However, you will have to cut back on the smart features. For example, the Watch GT3 Pro does not support mobile payments, and Huawei's App Gallery only has a handful of apps that are only available for Android users. As for the other side of the coin: The battery lasts for about a week even during intensive use. If materials, build quality, and battery life are your priorities, you should definitely take a look at the Huawei Watch GT3 Pro.
The ultimate outdoor smartwatch: Garmin Epix 2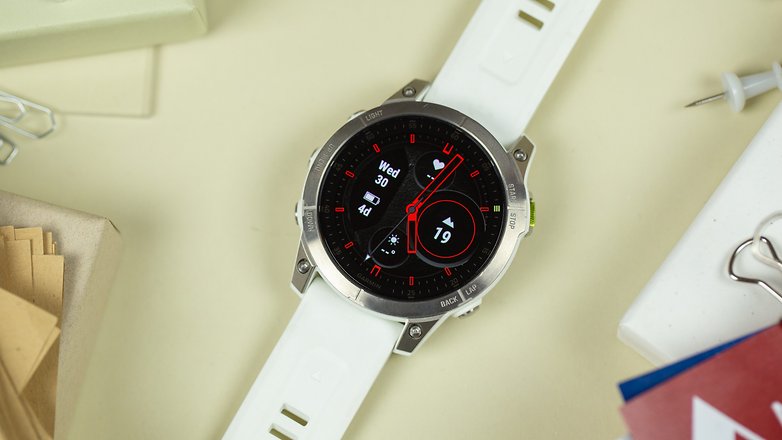 Read the Garmin Epix 2 review
It doesn't get any better than this: whether you're playing golf or plunging into the water on a surfboard, scrambling through the mountains or having strapped your feet to skis under your feet: the Garmin Epix 2 has the corresponding modes with countless extra functions for every conceivable sport. Want to check out some examples?
The Garmin Golf app is aware of 42,000 golf courses, while the right app informs windsurfers about wave height, swell direction, swell period, water temperature, and more.Outdoor sports enthusiasts can look forward to comprehensive map material including precise GPS navigation, with a chest strap that can be purchased separately. There is also a precise running style analysis. And for snow lovers, there are maps of more than 2,000 ski resorts on the watch. The list simply goes on and on.
You can also precisely track your sets in the gym. The Epix 2 automatically recognizes many forms of exercises, such as bench presses or deadlifts, including the number of repetitions. All you have to do is enter the weight to record your workouts. Of course, there are also the usual tracking functions for sleep, stress level and recovery with heart rate variability and resting pulse.
While all wishes are fulfilled in the sports features, there is still room for improvement in terms of smartwatch functions. Garmin Pay, for example, does not offer as broad support for banks as Apple Pay or Google Pay. And the notification system is also less powerful compared to the rivals from Samsung, Apple and others. Still, if sports are your top priority, the Garmin Epix 2 is simply the ultimate sports watch.
Best Value-For-Money Fitness Smartwatch: Amazfit GTR4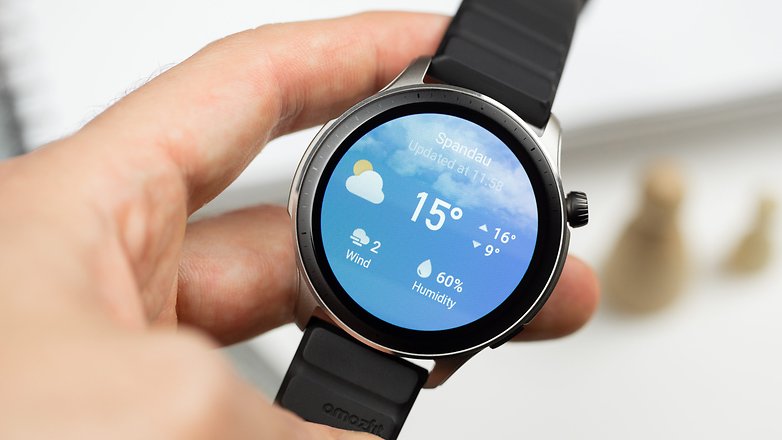 Read the Amazfit GTR 4 review
Are you looking for a cheap sports smartwatch with an unbeatable range of functions? If you have answered in the affirmative, you should definitely take a closer look at the Amazfit GTR 4 – or the almost identically equipped GTS 4, which comes with a square instead of a round display. In the NextPit sports test, the watch impressed us with the very precise dual-band GPS and practical workout recognition in particular. The latter automatically recognized exercises such as curls or deadlifts during fitness training and shows a stress overview of the muscle groups after the workout, which is very similar to what much more expensive Garmin models can do. With the GTR 4 and GTS 4, you can even connect to third-party chest straps!
The downsides include the limited smartwatch capabilities, Alexa support, notifications from the smartphone, and having just a handful of apps. You will search in vain for features such as mobile payment capability or replying to messages on your wrist. However, if you were to focus on the sports functions alone, then you will be in seventh heaven with the Amazfit!
Price-performance tip: Fitbit Versa 3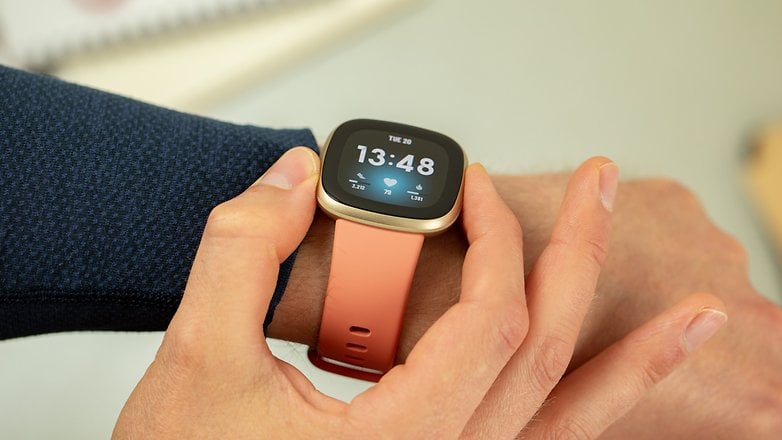 Read the Fitbit Versa 3 review
Our price-performance tip is, with some restrictions, the Fitbit Versa 3. Because the acquisition costs of the smartwatch are low at just under $160 in November 2021. At the same time, the model offers a range of functions that can definitely compete with the rivals in this best list. The display is AMOLED, the operating concept is well thought-out, and the variety of sensors is top.
You can record your jogging routes via GPS, measure your heart rate and go to the bakery without a wallet thanks to digital payment. However, there are limitations due to the premium subscription. If you also want to do mindfulness exercises or evaluate the measured body data in detail, you will have to pay monthly costs.
Fitbit also introduced the Fitbit Versa 4 in September 2022 alongside the Sense 2 (hands-on). You will find a detailed review on NextPit.com soon.
Best hybrid smartwatch: Withings ScanWatch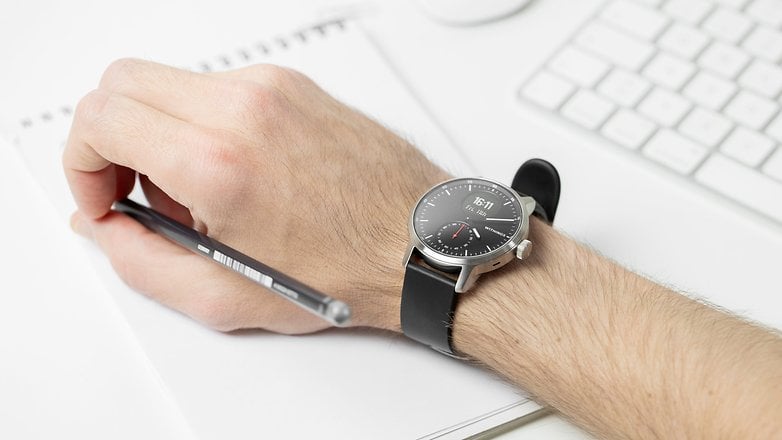 Read the Withings ScanWatch review
For my last smartwatch recommendation, I introduce you to another quite exciting product category. Hybrid smartwatches have a classic watch face including hands, but are connected to the mobile phone via Bluetooth. This way, the Withings ScanWatch transmits the data from the heart rate monitor as well as your step count to your smartphone. At the same time, there are also a few smart features on the watch.
As Berti found out in the test, the watch shows you notifications and incoming calls on a small OLED display on the watch face. The whole package can't be compared to a "real" smartwatch, but the watch is supposed to be a mixture of analog and digital. And it manages that quite well!
How did NextPit choose the best smartwatches?
Unwrap it, strap it on, try it out, use it for jogging, cycling and everyday life – that's how every review we publish on a smartwatch or fitness tracker goes. Because we at NextPit stick to a practical test procedure that should give you the impression you would get if you tried it out yourself. In addition to our test impressions, we've included other variables for these articles.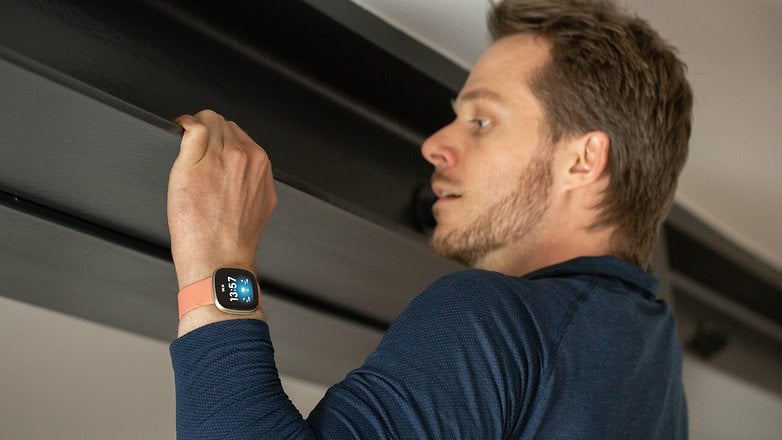 When did the smartwatch come out, how well does it serve what purpose, and how we rate the mass appeal of the watch. The Garmin Venu 2 Plus or Amazfit GTR 4, each received 4.5 stars as a fitness smartwatch – making them a great choice for fitness enthusiasts. However, if you are looking for an all-rounder with many smartwatch features and attach less importance to tracking functions, you are not necessarily able to obtain those from these two models. Therefore, neither were placed first as the best smartwatch.
Ideally, you are currently looking for a smartwatch and find the right model via this article. How well did that work out? Of course, we are always happy to receive criticism and suggestions in the comments. Also, tell us which model you bought or which you would like to see a review of on NextPit.
Upcoming deal days
Finally, here are a few tips before making your purchase! Unfortunately, you just missed the numerous promotion days that are set to happen at the end of the year, when you can obtain many smartwatches at a cheaper price. This is especially true when it concerns smartwatches, and it is recommended to try out the models in the store beforehand. The different case sizes and materials result in different wearing comfort depending on the wrist.
Upcoming promotion days
You might want to wait for these promotional days before buying a device:


| Action | Date |
| --- | --- |
| Singles Day | November 11, 2022 |
| Black Friday | November 25, 2022 |
| Cyber Monday | November 28, 2022 |
Smartwatches are also often offered in bundle deals or as part of mobile phone contracts. This makes sense especially if you buy a model with an LTE module and are directly provided with an eSIM. You can find out how to find a good mobile phone contract for your smartwatch in the linked article.
Further best lists on NextPit
Are you shocked by how expensive most of the good smartwatches are? Then don't hang your head, because maybe a fitness tracker will do the trick. Because so-called smartbands have most of the important tracking features and now even often shine with features that only smartwatches had a few years ago.
---
This best list was revised in October, 2022. Existing comments were maintained.