Sony has never been a brand for cheap phones, certainly not in the premium segment, and the Xperia 5 IV is no exception. That said, last week's poll suggests the phone could have wider appeal if the price were more palatable.
Like the phone, however, half of the voters involved aren't willing to part with $1,000/€1,050/£950 to pick one up. For comparison, the Mark 3 model was priced the same last year at €1,000/€1,000/£950. That's nothing compared to Apple's price hike for the new 14-series, which doesn't have a smaller member to boot now (the iPhone 13 mini is still available at a discount).
Going back to the Mark 3, when we asked you last year, the fraction of people who thought it was too expensive was small and a good deal more people were preparing to buy it. However, a look at this year's Xperia 1 IV poll shows widespread opinion that the price is too high. A sign of the times perhaps?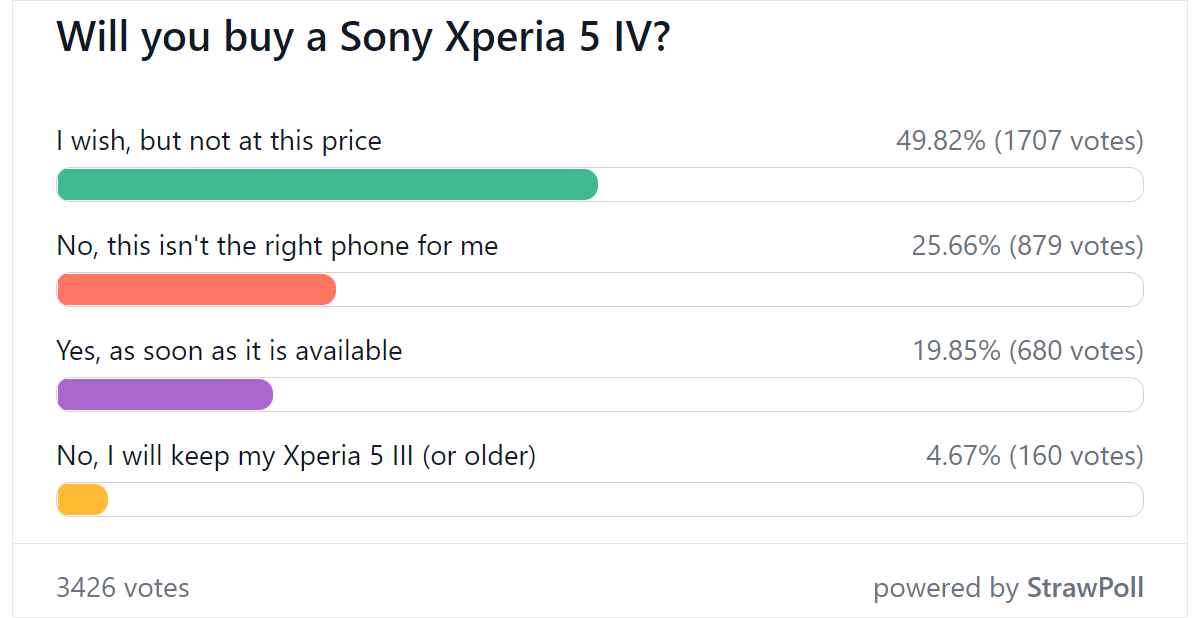 There were many reasons why the Xperia 5 IV wasn't priced as high as Sony wanted it to be. The limited software support is a big one – Sony is bad compared to other Android makers, never mind Apple.
Especially considering how small the gap will be between the arrival of the Mark 4 (this month) and the Snapdragon 8 Gen 2, the original Snapdragon 8 Gen 1 is another option.
The move back to the telephoto camera department has also not gone unnoticed. Also, while many like the lack of punch holes and notches on the Xperias, not everyone is as enamored with the 21:9 aspect ratio as Sony.
But no one can knock the Mark 4 because it doesn't have a 3.5mm jack or microSD or wireless charging support. That's why a good 20% of voters are ready to buy the phone, even if it's on the expensive side.